Clearwater River Casino welcomes Native American Comedy Jam on August 26th!
Featuring James Junes, Kasey Nicholson and Marc Yaffee
Date: August 26th, 2022
Doors open: 5:30pm
Show Starts: 7:00pm
Tickets on sale now at the CRC Box office and online https://www.ticketswest.com/events/detail/native-american-comedy-jam-ecrc0826
Reserved Table Seating: $65 per individual ticket  (table seats 4-must purchase individual tickets)
General Admission: $40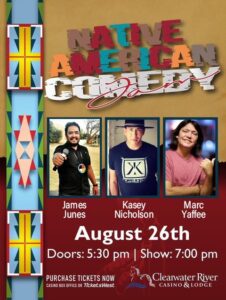 James Junes
James is Diné and Hopi. He resides in Farmington, New Mexico USA with his wife and four children.  As a Native humor comedian, motivational speaker and actor for the past 20 years, he is also part of James & Ernie Comedy and 49 Laughs Comedy. His heritage, personal stories and experiences add to his presentations for what he calls "humor-healing."
Marc Yaffee
Marc is a co-star of the historic Showtime special, Goin' Native; the first-ever all-Native cable special. His comedy special, Mid-Laugh Crisis, got over 2 million Facebook views in its first 8 days after release.
Kasey Nicholson
Kasey "Rezzalicious" Nicholson is from Fort Belknap Indian Community, A'aa'niiih and Pikuni Tribes. He's been doing Comedy since 2010, performing all over North America. In 2018 Kasey won Montana's Funniest Comedian